Massage Burnaby Kingsway
Massage Therapy Treatment / RMT Burnaby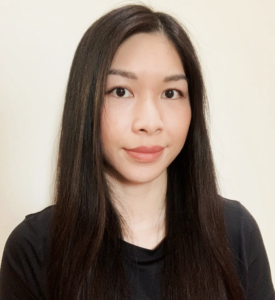 Jessica Tse grew up in Vancouver and always intrigued by the human body. She became fascinated with how the human body's ability to grow, move, heal, reproduce, and interact with all other muscle skeletal systems and how the body's anatomy is all interconnected and functions in order to provide the necessary care from one area to the next. One area of the body can affect the rest of the body and without proper care and attention the entire body can eventually break down. After graduation, Jessica worked in fine dining restaurants in Vancouver as a baker, but was still drawn to helping people and the human body. So, she left her position as a baker and went after her true calling. 
Jessica is a graduate of the Registered Massage Therapy Program from Vancouver Career College in Burnaby. During her tenure as a RMT practitioner in Vancouver and Burnaby, Jessica experience working with all different types of patients but is not limited to those with diabetes, hypertension, carpal tunnel syndrome, frozen shoulder, dislocation, and thoracic outlet syndrome. Jessica uses Swedish massage, trigger point release, and myofascial release techniques that helps reduce tension in the surrounding muscles and to gain mobility in the affected joints that ultimately leads to a better functioning body.  
A RMT massage with Jessica provides a detailed assessment, treatment, homecare, and extensive knowledge to help benefit her patients. If you are looking for a RMT massage for rehabilitation, relaxation or massage therapy, she can provide the proper guidance to help you restore and strengthen your body. Providing treatment and care for her patients in order to decrease their pain while restoring function, is what inspires Jessica to become a Registered Massage Therapist.  
To Jessica, self care is one important aspect in our health  and livelihood. Without proper care and attention to the body though massage, the bode can start to tighten and break down. Maintain the body through massage and self care can increase happiness, energy levels, concentration, and reduce overall stress in the body.
Jessica firmly believes that massage therapy can offer a wide range of physical and mental health benefits, and can be a valuable addition to a comprehensive healthcare regimen, as massage therapy can help can help relieve chronic pain in areas such as the back, neck, and shoulders, as well as pain caused by conditions such as arthritis, fibromyalgia, and sports injuries. Also, a RMT massage from Jessica Tse can help reduce stress and promote relaxation by reducing levels of the stress hormone cortisol in the body, and increasing the production of endorphins, the body's natural feel-good chemicals or can help improve sleep quality by reducing muscle tension, promoting relaxation, and increasing the production of the hormone serotonin, which helps regulate sleep.
Other benefits of a RMT massage can help boost immunity, improve range of motion, decrease headaches or lower blood pressure. As we are constantly on the go, and don't stop and take the time to let our bodies relax.
In Jessica's free time she loves being outdoors and staying active. She enjoys hiking, yoga and Pilates, paddle boarding, and travelling. She has a big love for food, and often goes to various coffee shops and cafes. She also bakes during her free time and has a big sweet tooth. 
Jessica speaks English and Cantonese.
Areas of Focus: Combination of relaxation and therapeutic massage, pregnancy massage, ICBC massage claims, Swedish massage, trigger point release, and myofascial release techniques
Certifications: Registered Massage Therapist (RMT) -Graduated from Registered Massage Therapy Program from Vancouver  Career College in Burnaby.