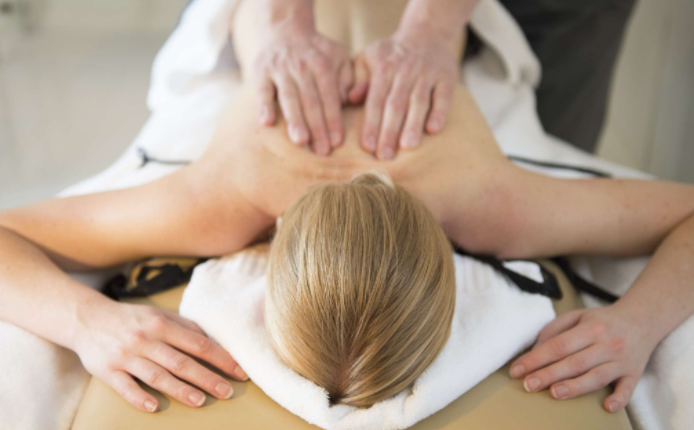 Massage therapy is the manipulation of soft tissues of the body including muscles, connective tissue, tendons, ligaments and joints. Massage therapy is a clinically-oriented healthcare option that helps alleviate musculoskeletal disorders associated with every day occupational stress, muscular over-use as well as other acute and chronic pain conditions.
At Elu Wellness your session is conducted by a Registered Massage Therapist or RMT enumerated by the College of Massage Therapists of British Columbia (CMTBC).
Massage therapy is used to help manage health conditions and enhance wellness. It has been practiced in most cultures throughout human history and is one of the earliest methods used by people used to elevate pain and promote healing.
At Elu Wellness we believe that healing and balance is attained through selfcare and we strive to provide you with the best care and attention possible while you are in our care.
When coming for your massage it is ideal to arrive early to allow sufficient time to settle into the proper mindset. If you are visiting Elu Wellness for the first time, you will be asked to fill out some paperwork including a consent form as well as a relevant health and medical questionnaire.
Next, you will meet with your RMT where you will be assessed and have a two-way dialogue regarding your areas of focus or concern after which you will be asked to ready yourself for your treatment.
The tranquil ambiance of the treatment room, coupled with the thoughtful touches such as a niche for your personal effects and luxury linens, will help ease you into a peaceful state of mind. As a massage is a personal experience where touch is involved, your comfort is paramount to a positive and healing experience.
If certain aspects of the session make you feel uncomfortable, please speak up and our RMTs will do their best to make adjustments to ensure you are as much at ease as possible. During the massage, some patients enjoy conversation while others do not—you are not obligated to engage in small talk during your session.
Similarly, if you do not like music or if you prefer the noise level or temperature to be adjusted, you can ask for changes at anytime. Please be mindful that your massage therapist can only change what is within their immediate control and will do their best to make you comfortable.
When you are comfortably settled, your RMT in Burnaby will begin lubricating your skin with massage oil in order to manipulate the body's soft tissue through rhythmic strokes to warm and work muscles. This leads to the diminishing of tension and helps break up muscle "knots" or adhesions to promote relaxation and begin the healing process. A heating pad and heated fresh towels may also be employed by your RMT if they believe it to be beneficial.
Your massage therapy session at Elu Wellness concludes with a soothing cup of our signature green tea whose antioxidants will help flush away the waste products that your massage therapist just worked out of your muscles. Continue by drinking plenty of water after your session to help combat any discomfort the next day.