Prenatal Massage – Burnaby
Pregnancy Massage in Burnaby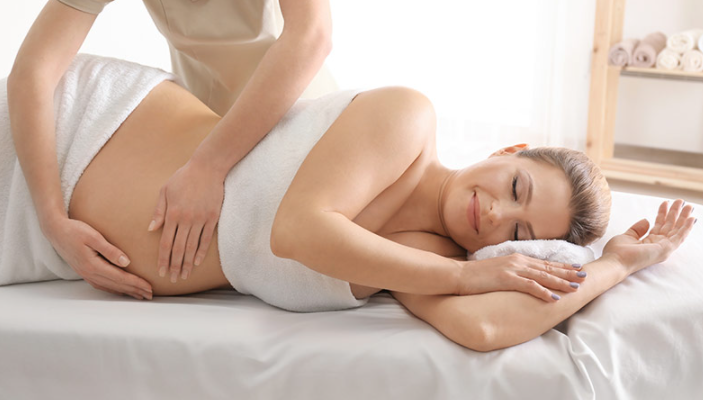 At Elu Wellness we are firm believers in the therapeutic benefits of pre and postnatal massage. During a pregnancy it is important to support the changes the body undertakes as it nurtures a developing baby as well as manage the various fluctuations in hormones this time brings.
After baby is born, it is important to continue to receive massage therapy to help the body adjust to more hormonal changes as the body prepares for lactation and for a gradual return to its pre-pregnancy state. The constant picking up, holding and putting down of baby, not to mention the lack of proper rest and sleep when it comes hand in hand to caring for a newborn, only adds to the aches and pains as well as general anxiety and stress during this time.
Prenatal massages are beneficial as it often helps ease conditions that many expectant mothers may experience such as back and pelvic pain, edema (swelling caused by excess fluid trapped in the tissues of the body), restless sleep as well as general muscle tension and headaches.
Massages for expectant mothers are generally safe after the first trimester, however, your doctor should always be consulted prior to making an appointment at Elu Wellness. Please also inform us that you expecting and how far along you are into your pregnancy.
Generally, massages should be avoided during the first three months of pregnancy as the body is still adjusting and any treatment during this time may trigger dizziness and add to general discomfort.
Prenatal massages at Elu Wellness are adapted for the anatomical changes a body undergoes during pregnancy to ensure both you and baby are comfortable during your time in our care. Your massage will still take place on the traditional massage table, however, you will be supported with speciality pillows, cushions and wedges to ensure your comfort and support. Your treatment will be in a semi-reclined and side-lying position to allow for the most comfortable and relaxing experience possible.
Giving birth is not an easy process and after delivery most mothers experience some discomfort in the time following. At Elu Wellness we recommend you continue with therapy to help ease pain and to help quiet the stress your physical body has just experienced.
Postnatal massages are also beneficial for aiding in lactation (massage therapy has been proven beneficial in helping with low milk production), weight loss and in helping to reshape the body. Unfortunately, postnatal depression is a reality for many mothers and massage therapy can go a long way helping reducing some of the physical symptoms and discomforts in order to help with mental recovery.
Post-natal massage benefits include:
Give nurturing and emotional support to women
Helps alleviate the muscle strain of labor and childbirth
Helps promote pelvic floor healing and rebalance the pelvis & spine
Helps restore & normalize abdominal structures & facilitate healing after Caesarian section
Helps restore normal walking patterns
Helps prevent & reduce back & neck pain caused by new-born care
Despite myths to the contrary, prenatal massage therapy does not disrupt a pregnancy and will not trigger contractions. It does, however, provide many positive benefits for expectant mothers including calming the mind and body to help alleviating discomfort and improving quality of rest. Postnatal, massage therapy also helps with reducing physical and metal stress so mom can more thoroughly enjoy the new addition to the family.