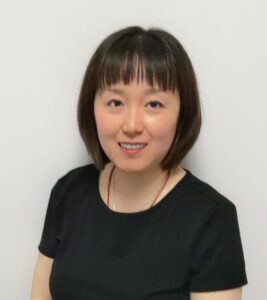 Registered Massage Therapist (RMT)
Doctor of Traditional Chinese Medicine
Lynna is a dual threat when it comes to RMT and acupuncture. She is both a licensed RMT and a Doctor of Traditional Chinese Medicine. Not many people have he skills she possesses as she can help you from a wide array of angles. With someone of Lynna's qualifications you will hard pressed to find someone with as much skill.
Growing up in China, Lynna has gained a certain perspective on the body that many other massage therapists may or may not understand. As child growing up, she was able to gain the eastern philosophy of healing with massage and Traditional Chinese Medicine (TCM). In China, Lynna became fascinated with the power of healing and the holistic approach and all its' benefits.
When Lynna moved to Vancouver, she decided to peruse a career in RMT and Massage. By combining her passion for eastern holistic medicine and her education in Western techniques, Lynna has become an every better RMT massage therapist AND acupuncturist because she has a well-rounded approach to both massage and acupuncture. She graduated from VCC with a degree in massage therapy and also is a licensed acupuncturist and registered from the College of Traditional Chinese Medicine Practitioners and Acupuncturists of British Columbia.
With Lynna she has the ability to heal on many fronts. She is not confined to just traditional western or eastern techniques. She has the ability to adapt and access a patient and give the best treatment plan for you. Wither it be a RMT massage to remove all he aches and knots or using traditional Chinese medical techniques like acupuncture, cupping, or gua sha, Lynna will provide you the best service available.
Not matter what you are coming in for, Lynna provides excellent communication and active listening skills. She is fluent in Mandarin and English and has good time management skills when administering a massage or acupuncture treatment.
What separates Lynna from most other RMT specialist and acupuncturist is her curiosity. She is always wanting to learn more and improve and has amazing energy and commitment to healing and self care.
When she is not working Lynna loves to explore Vancouver and experiment with different restaurants in the city. She loves both the Asian and western culture and loves trying new foods around the city. She is a fan of spicy food and loves anything with a kick to it.
Lynna is a avid reader and always has a book in her hand. She is constantly trying to improve and better her self with further education and this reflects in her work.
Certifications: Registered Massage Therapist (RMT) and Doctor of Traditional Chinese Medicine
Specialties: Massage therapy, acupuncture, cupping, motor vehicle injuries, deep tissue massage, prenatal massage