RMT Massage Practitioner
Burnaby Massage Clinic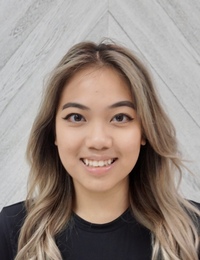 Kathy's passion for helping others improve their health and well-being, led her to her career as a massage therapist.
Kathy graduated from Langara College's registered massage therapy program in April 2022. From full-body relaxation to decreasing stress and muscle tension, she uses her holistic and compassionate approach to massage therapy to create a soothing and unique treatment for each patient. Kathy relaxation massage is a smooth, gentle treatment that relieves muscular tension, increases circulation, and promotes a general sense of relaxation. This is to help promote emotional and physical calm and relaxation, helps relieve pain, helps relieve headache, helps reduce muscle tension, helps improve sleep and fatigue and helps improve mood.
Kathy massage technique offers treatment for a wide range of medical conditions and situations. These massage benefits can include reducing stress and increasing relaxation and reducing pain and muscle soreness and tension. Kathy is also proficient in deep tissue massage. With a deep tissue massage she gives attention to painful trouble spots on the body. She will target muscle knots (areas of tension within the muscle fiber) and problem areas in deeper muscle layers and connective tissue and focus on the deeper layers of muscles, tendons, and fascia (the protective layer surrounding muscles, bones, and joints).
Deep tissue massages aids in the breakdown of compounds released by our muscles. Lactic and uric acid build up around muscles causing pain, soreness and lack of flexibility. Massage releases these compounds in the bloodstream and when they are excreted from the body, lowering its overall acidity.
With Kathy's eager and up-beat personality, she is ready to take on patients and give them the best treatment possible.
Kathy grew up as a competitive dancer for 11 years and performed in many musicals and plays. She hopes that in the future she can perform on the stage once more. In her spare time, she enjoys playing video games, watching anime and playing spikeball.
Languages: Kathy speaks English and Vietnamese 
Specialties: Full-body relaxation, deep tissue massage
Certifications: Langara College's registered massage therapy program