Massage Therapist n Burnaby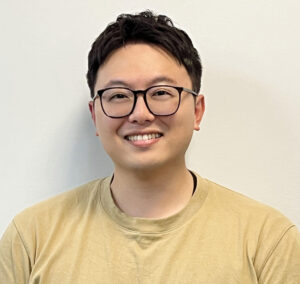 Junghyun (Jeff) Lee has spent the last 15 years working in numerous service businesses. He used to work in a downtown Vancouver hotel, where he dealt with dozens of coworkers and visitors from all over the world, and he had no reservations about meeting new people. Jeff was well aware of the different conditions that people working in the service industry, such as restaurants, movie theatres, cafés, and hotels, faced. And he considered how to relieve the discomfort and resolved to learn it himself.
Jeff provided a variety of patient care from the massage school clinic patients, many of whom were coworkers. He is aware of treating rounded shoulder and head forward posture because he treats many patients with the same or comparable problems. He is also good at relieving leg swelling and muscles from standing long, climbing, or exercising.
Jeff began studying RMT at Vancouver Career College in March 2021. He had a passion for school classes and was always interested in learning new things. His treatment skills are good at the clinic as he has learned various treatment skills from many good instructors.
Jeff likes hiking and camping. He goes to various places with his friends every summer. He likes Lake Buntzen, the nearest place. He prefers hiking for at least two hours. And he likes to cook. He likes Korean food the most and sometimes he likes to make fusion dishes with other countries.
Jeff is always open to meeting new patients because of various previous experiences. In addition to the symptoms mentioned, various cases can be treated, and he will do his best to relieve the patient's anxiety. A massage with Jeff can help with issues like reducing stress, delaying onset muscle soreness, help with muscles strains, stiff joints, back and neck pain, sciatica, osteoarthritis or headaches.
Jeff is trained in various rehabilitative exercises, such as stretching, strengthening, and postural exercises. The rehabilitative exercises are used in conjunction with a variety of techniques, such as:
Manual Lymphatic Drainage (MLD)
Muscle Energy Technique
Myofascial Release
Pre & Post Natal Massage
Post Surgical Scar Tissue
Sports Massage
Systemic Deep Tissue
Jeff is fluent in English and Korean.
Specialties: Swedish, Myofascial Release, Trigger Point Release, Joint Mobilization, Neuromuscular Therapy, Hydrotherapy, Active and Passive Stretching.
Certifications: