Registered Massage Therapist (RMT)
Burnaby Massage Therapy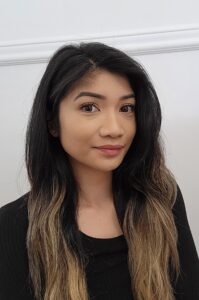 Jonebel or Jo Jo started working as a physiotherapy assistant and got inspired to become her own therapist. Her experience with soft tissue mobilization, stretching and implementing exercise plans made her a great candidate for massage therapy.
She is passionate in creating individualized treatment plans that help achieve one's goals and is excited to be a part of anyone's journey to wellness.
Jonebel graduated from Vancouver Career College Burnaby and is trained in a variety of techniques such as Swedish massage, trigger point release therapy, myofascial release techniques and various types of stretching techniques.
Jo Jo specializes in active rehab and deep tissue massage. She loves to help and heal people and is excellent at helping people alleviate musculoskeletal disorders associated with everyday stress, muscular overuse, physical manifestation of mental distress and many persistent pain syndrome
Specialties: Prenatal pregnancy massage, postnatal massage, reflexology, Shiatsu massage, Thai massage, acupressure, painless rebalancing therapy
Certifications: Graduate of Vancouver Career College