Registered Massage Therapist (RMT)
RMT Burnaby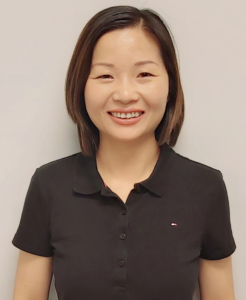 Guimin (Carmen) Guan brings a passion for patient-centered treatment and care. A greater understanding of the individual's concerns is taken into account during a comprehensive assessment. Using this data Carmen provides personal treatment goals based on the individual's specific needs. She brings a variety of massage techniques to help facilitate the healing process, some of which are Swedish, Myofascial Release, Trigger Point Release, Joint Mobilization, Neuromuscular Therapy, Hydrotherapy, Active and Passive Stretching.
Carmen loves to educate the patients on factors that influence health and wellness, and helps them engage in their recovery process such as stretching and strengthening exercises. This provides patients the ability and freedom to better manage their own conditions independently and have a healthy lifestyle. Carmen strives to keep herself up to date with the latest knowledge and information from the medical journals, conferences, and is constantly educating herself to improve her practice and treatments for her patients.
Carmen graduated from Vancouver Career College where she has done a comprehensive research on Thoracic Outlet Syndrome for her case study. Having treated numerous patients at the VaCC Clinic, different healthcare facilities and nursing homes. Carmen brings a variety of treatment options and experience and is well versed in various ailments and conditions. Prior to expanding into Massage Therapy, Carmen provided 5 years of services as a Home Support Caregiver working in a home-based environment facilitating the elderly and people with various diseases who require assistance in daily living. Also Carmen was a Traditional Chinese herbalist in China for more than ten years. Kind-hearted, caring, and helping people who are in need is Carmen's personality.
Daily exercise, eating clean, restful sleep and a variety of outdoor and indoor activities are common in Carmen's daily schedule in maintaining a healthy physical and mental lifestyle.
Carmen is fluent in English, Cantonese, and Mandarin. Whether you are seeking a relaxation or deep tissue massage, as well as post injury or chronic pain, she is currently taking on new patients.
Specialties: Swedish, Myofascial Release, Trigger Point Release, Joint Mobilization, Prenatal Massage, Neuromuscular Therapy, Hydrotherapy, Active and Passive Stretching.
Certifications: Registered Massage Therapist (RMT)