Beibing (Maggie) Zhang
Registered Massage Therapist (RMT)
Burnaby Massage Therapy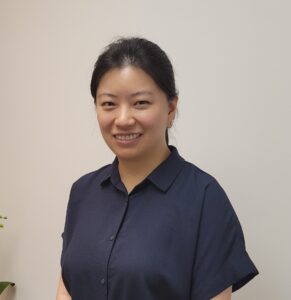 Maggie always had a passion for patient-centered treatment, which including creating personalized short-term and long-term treatment goals based on specific individual needs. She helps facilitate the healing process by the techniques that she likes to use include but are not limited to myofascial release, Swedish, trigger point release, neuromuscular therapy, hydrotherapy, and PNF stretching. She is passionate about patient education too and will teach you exercises and other home care, so the patient can manage the symptoms independently and have a healthy lifestyle.
She graduated from Vancouver Career College. She has done some research on functional scoliosis condition. Other than practices in the VCC college clinic, she also has practiced massage treatment at City Centre Care Society and other two office buildings. Maggie is also a nursing assistant and has worked in a long-term care home in Vancouver for several years. Taking care of the elderly person and people with severe disease, who need assistance with daily living.
Maggie is fluent in English and Mandarin. Whether you're seeking relaxation or treat an injury, she is always happy to welcome new patients.
Maggie was born in China and honed her love of massage therapy in China. When she moved to Canada to pursue her massage education, she was able to combine and meld two different cultures in massage therapy.
Once you have a massage therapy session with Maggie you will see the care and attention she brings to each and every massage. For people that have sport pains or injuries she has the ability to find and heal the spot that are affecting you. She has a keen eye and feel to find the right trigger points to release any tension or discomfort you may have.
Specialties: Prenatal pregnancy massage, postnatal massage, Swedish, reflexology, relaxation, trigger point release
Certifications: Registered Massage Therapist (RMT)