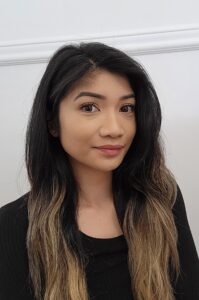 Jonebel started working as a physiotherapy assistant and got inspired to become her own therapist.
Her experience with soft tissue mobilization, stretching and implementing exercise plans made her a great candidate for massage therapy.
She is passionate in creating individualized treatment plans that help achieve one's goals and is excited to be a part of anyone's journey to wellness.
Jonebel graduated from Vancouver Career College Burnaby and is trained in a variety of techniques such as Swedish massage, trigger point release therapy, myofascial release techniques and various types of stretching techniques.
She is working as a bodyworker while waiting to take her licensing examination in September. One form of bodywork is deep tissue massage therapy, and the terms massage and bodywork are often used interchangeably. While bodywork includes all forms of massage techniques, it also includes many other types of touch therapies.
Jojo has already graduated and is a fully capable massage expert but because she has not taken the RMT exam she is not licensed for direct billing, insurance claims or ICBC treatment. For the month of July 2022 all her body worker massages will only be $40. Take advantage of her skills before her rates go up and she is a fully licensed RMT.
Specialties: Prenatal pregnancy massage, postnatal massage, reflexology, Shiatsu massage, Thai massage, acupressure, painless rebalancing therapy
Certifications: Graduate of Vancouver Career College (not licensed yet)